Over 7,000 aspiring learners expected to visit exhibition in search of further study options
November 14, 2018 – The Autumn edition of the Gulf Education and Training Exhibition (GETEX) returns to Dubai presenting over 300 academic and occupational courses before Emirati and expat students and professionals who are actively looking for higher education, professional development, and training options. The exhibition, which opened today (Wednesday, November 14, 2018), will run over the weekend until November 16th at the Dubai International Convention and Exhibition Centre, specifically for families and working professionals.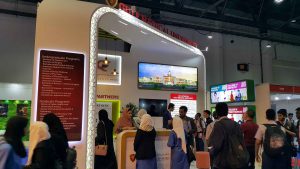 "Final year students for 12 schools across UAE visited GETEX Autumn on its opening day—serving as a testament that school managements give serious consideration to their student's post-secondary education options. As organizers of the UAE's foremost education brand – GETEX, we recognize the important role Schools play in their students' higher education, whether it be their performance levels, their choice of subjects or simply their attitude towards studying further," said Tanya Mokle the show director.
The objective behind hosting an autumn edition is to provide universities and colleges, which have an intake in January and February, an opportunity to meet with prospective undergraduate and postgraduate students. On the other hand, the event also allows students to preview their study options after the close of their current academic year between March and June of the next year.   In tandem with rapid advancements in the job market across various sectors, triggered by technological advancements, learners now find it extremely important to keep themselves updated with opportunities of skills acquisition. This shift in attitudes has prompted education providers to constantly interact with the student community to shed light on recent advances, courses and their rising relevance, and the quality of course deliver, among others.
"Platforms such as GETEX are becoming extremely relevant as more and more learners and working professionals become aware of the importance of constantly upgrading their skill sets. The UAE has one of the fastest growing student populations heading towards higher education in the world," added Tanya
The exhibition is being organized by International Conferences and Exhibitions (IC&E).