New Programs and International Partnerships to Drive Leadership for Creative Minds
H.E. Dhahi Khalfan: "Our collaboration with technology giants comes as part of our efforts to equip future leaders with knowledge and innovation."
Mansoor Al Awar: "We continue to collaborate with AWS and Signify to further invest in young talents, our most important asset."
UAE, August 15, 2020 – As part of its continuing efforts to establish a highly qualified generation of technology and knowledge pioneers, the Emirates Talent Association and Hamdan Bin Mohammed Smart University (HBMSU) marked the launch of two new programs under the "Emirati Programmer" program. This latest development aims to increase learners' abilities in cloud computing, internet of things (IoT) and 3D printing in line with the wise leadership's directives to foster innovation and technological advancement, and invest in young talents to support them in their role in shaping the UAE's future.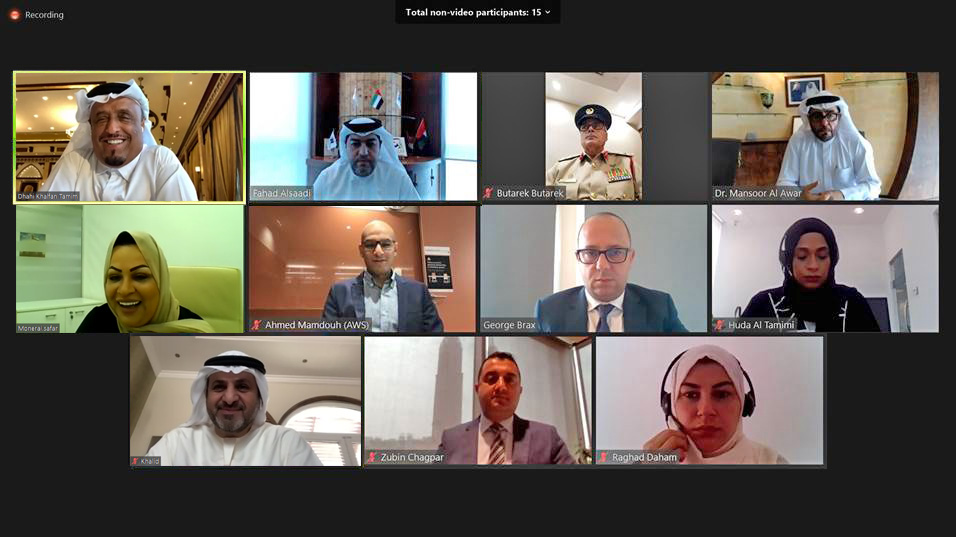 The 'Cloud Computing and IoT' program is being developed in cooperation with Amazon Web Services (AWS), a global pioneer in cloud computing services. Meanwhile the '3D Printing' program is the outcome of a partnership with Signify, a world leader in IoT-based lighting and building automation solutions. The partnerships with technology pioneers reflect industry leaders' trust and confidence in Emirates Talent Association.
The event was held through 'Zoom' platform under the patronage and in the presence of His Excellency Lieutenant General Dhahi Khalfan Tamim, Deputy Chairman of Police and General Security in Dubai, Chairman of the Board of governors of HBMSU, Chairman of the Emirates Talent Association. It also witnessed the presence of Dr. Mansoor Al Awar, Chancellor of HBMSU and Vice President of the Emirates Talent Association; Zubin Chagpar, Head of the Middle East and Africa for the Public Sector at AWS; and George Brax, General Manager, Signify Middle East and French West Africa.
The new programs are a major addition to the "Emirati Programmer" initiative which was jointly developed by Emirates Talent Association and HBMSU to equip young talents and excel in a highly competitive world. The new collaboration with major technology providers is set to increase the technology skills offering of the Emirati Programmer which has, in four years, witnessed the graduation of 400 students. It will further raise its profile as the first of its kind national program dedicated to increase national talents' capabilities in artificial intelligence (AI), cyber security, coding, and programming.
"The UAE is keen on building a generation of qualified and empowered talents, and the recent historic launching of Hope Probe capitalizing on the expertise of national talents is another testament to the success of this approach. The efforts to equip national talents with the skills and algorithms of AI, programing, and cloud computing in partnership with technology giants reflect the ambitious vision of H. H. Sheikh Mohammed bin Rashid Al Maktoum, Vice President and Prime Minister of the UAE, and Ruler of Dubai, who said: "The UAE split the atom, and wants to explore the galaxy. Our message to the world is that the Arabs are able to follow their scientific ambitions and compete with the rest of the great nations. Nothing is impossible", said H. E. Lieutenant General Dhahi Khalfan Tamim.
H. E. concluded: "Supporting and motivating national talents has always been a top priority for us. We believe that by equipping the youth with the expertise and knowledge of 3D printing, cloud computing and IoT and successfully maintaining development programs for them despite the challenges brought about by the pandemic, we can keep pace with the latest technology trends in a rapidly changing world. Having globally renowned technology firms as our partner highlights Emirates Talent Association's leadership in developing and empowering young generation, and further reflects the UAE's aspirations to harness advanced technology to support sustainable growth and human development."
Dr. Mansoor Al Awar, said: "Strong international cooperation is a core value of HBMSU, which is being implemented through its principle of 'Together We Grow' and building strong global partnerships to develop new tools that will shape the future. We are committed to strengthening our fruitful cooperation with global technology leaders to provide the young generation with the latest tools to learn about Internet of Things (IoT), cloud computing and 3D printing. This comes as part of our efforts to employ technology in accelerating development and growth and keep pace with the changing requirements of 21th century, in accordance with the wise directives of His Highness Sheikh Hamdan bin Mohammed bin Rashid Al Maktoum, Crown Prince of Dubai and President of HBMSU, who said that investing on young people is always a win."
Al Awar added: "Our collaboration with Amazon Web Services and Signify to implement the two new programs is a major boost to our continued efforts to build future skills, based on technology, innovation, creativity and scientific research, as we hone a new generation of entrepreneurs, innovators, knowledge ambassadors and future leaders instead of just job seekers. The 'Emirati Programmer', with all its programs, is a solid platform to further invest in the youth's capabilities, especially in the field of technological innovation. It also provides them with the means to develop their skills and talents as they prepare to take up their roles in leading the nation for the next fifty years, as envisioned by His Highness Sheikh Mohammed bin Rashid Al Maktoum, Vice President and Prime Minister of the UAE and Ruler of Dubai, of the UAE as a global model in empowering youth and preparing them for the future. We are confident that the results of our new programs will be an important addition to our leading experience in re-shaping learning models and in transforming universities into knowledge and innovation hubs, as well as serve the comprehensive development process in the UAE."
Zubin Chagpar, Head of Middle East and Africa, Amazon Web Services (AWS), said: "We are very pleased to collaborate with HBMSU and to support the "Emirati Programmer" initiative, providing students with learning opportunities that introduce them to key advanced technologies to prepare them for the jobs of the future. We look forward to continuing to support the university with cloud learning programs to help students develop skills that open up limitless opportunities to innovate on AWS."
George Brax, General Manager, Signify Middle East and French West Africa said: "At Signify we continuously innovate for our purpose, which is to unlock the potential of light for brighter lives and a better world. 3D printing is one of our focus areas in lighting as it highly contributes to a sustainable environment, and at the same time provides freedom of design and speed of production. The partnership we have with Emirates Talent Association and HBMSU gives us a great opportunity to let Gen Z learn how to apply this new technology and contribute to the vision of the UAE."
To be held over three weeks, the 'Cloud Computing and Internet of Things' program focuses on providing talented students in high schools with the fundamentals of the Internet of Things and cloud computing, in addition to enabling them to master the scientific, engineering and technological skills necessary to enhance their ability to innovate using AWS platform services. They would learn basic cloud services and IoT which can be used in creating solutions for the society and enable people to keep up with the latest advances in technology in the UAE.
The program has been especially designed to provide the complete education and training experience on a digital platform where the participants will learn via the Internet at the speed, time, and place convenient for them. They can also participate in a series of virtual classrooms under the supervision of a group of experts and trainers. The practical training features virtual instructor-led sessions, training courses, videos and worksheets, as well as direct access to the best scientific and knowledge resources related to how to implement simple IoT solutions. The program will be concluded with a final graduation project.
The '3D Printing' program will provide participants with the basic concepts and best practices of 3D printing at the entry level. The program includes courses, videos, interactive learning, and training opportunities especially designed by Signify to highlight the importance of 3D printing, with a focus on its applications in business and lighting technology. The program includes four virtual sessions that are held under the supervision of a specialized team from Signify Training. The program will be concluded with the final project, which will be evaluated by trainers.