ADEK's Abu Dhabi Science Festival ends 2017 edition on high note with footfall of more than 100,000 visitors
Region's premier science fair attended by more than 17,000 students
Award-winning festival featured 71 entertaining & education activities
Over 40% of activities & workshops provided by local organizations
Festival's social media platforms log around 20,000 social media engagements
UAE, November 25, 2017 –
The 7th edition of the Abu Dhabi Science Festival (ADSF), the region's premier science fair, surpassed expectations to close its highly successful 10-day run with an estimated attendance of more than 100,000 visitors and over 17,000 student participants. Held under the patronage of H.H. Sheikh Mohamed Bin Zayed Al Nahyan, Crown Prince of Abu Dhabi and Deputy Supreme Commander of the UAE Armed Forces and organised by the Abu Dhabi Department of Education and Knowledge (ADEK), the leading festival treated its audiences comprising mostly young students aged 5 and above to 71 exciting and educational activities and shows highlighting the wonders and importance of the Science, Technology, Engineering and Mathematics (STEM) disciplines.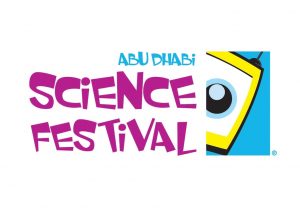 The science extravaganza was simultaneously staged at new venue Khalifa Park and perennial favorite Al Ain Zoo. More than 40 per cent of its content was provided by local partners, providing a cultural dimension to the festival and connecting visitors to the local industry. This year's interactive activities successfully captured the imagination and sparked creativity among visitors and drew around 20,000 social media engagements on Facebook, Twitter, Instagram, and YouTube. Many topics ranging from the human body and the natural world to creative technology and space were covered by the festival's various interactive exhibits, fun workshops and spectacular shows.
H.E. Dr. Ali Rashid Al Nuaimi, Director General of ADEK, expressed his extreme satisfaction with this year's results and extended his gratitude to all the volunteers, sponsors, government and private supporters, educators, schools, students, and other individuals and organizations that contributed to the show's exceptional run. He said that ADEK will continue to improve the festival's vision as a platform for inspiring the next generation of scientists, technologists and engineers.
"The Abu Dhabi Science Festival has emerged as a catalyst for developing talents for the science and technology sectors in line with the UAE Innovation Strategy and the government's educational agenda under UAE Vision 2021. Given the very positive response to the fair this year, the Abu Dhabi Department of Education and Knowledge will intensify its efforts to further enhance its content, scope and influence. I would also like to extend my heartfelt appreciation to all who helped make the festival special and immensely popular," added H.E. Dr. Al Nuaimi.
Reflecting on the success of ADSF 2017, Mr. Adel Ahmed Albuainain, CEO, Dolphin Energy Limited said: "I am delighted with the response to this year's event and it was wonderful to see so many visitors come and experience the festival and participate in the array of activities and workshops that were on offer. ADSF lies at the heart of our community outreach program; it is one of the most inspiring and rewarding events that we sponsor because it provides the opportunity to inspire the young and support the vision that aims to make Abu Dhabi a world-class center for science, technology, engineering and mathematics. Congratulations to all those involved."
ADEK coordinated with 15 universities and academic and scientific institutions across the UAE to be part of the event. Organized student tours – an integral part of the annual festival – fostered a dynamic atmosphere of collective learning and encouraged lively discussions on the STEM field presented by each activity. More than 1
,
000 higher education students volunteered to present the event – including several ADSF alumni who were able to help deliver the workshops and shows in an engaging and unique manner. The organizers of the Edinburgh International Science Festival, one of Europe's largest science festivals, helped design and develop ADSF 2017's overall content to ensure maximum impact and participation.
The Abu Dhabi Science Festival
has been attended by over half a million visitors and supported by more than 50 sponsors since its launch in 2011. This year's edition was organized
in collaboration and cooperation with major government and private entities such as Dolphin Energy Limited (Presenting Sponsor), Mubadala and Emirates Transport (Affiliate Sponsors), Emirates Nuclear Energy Corporation (Content Sponsor), Abu Dhabi Media (Exclusive Media Partner), Marina Mall and Dalma Mall (Mall Partners), and several local universities.