Mansoor Al Awar discusses prospects for academic cooperation with President of Drexel University Online

UAE, December 12, 2017-
Dr Mansoor Al Awar, Chancellor of the Hamdan Bin Mohammed Smart University (HBMSU) and Chairman of the Governing Board of the
United Nations Educational, Scientific and Cultural Organization (UNESCO)
Institute for Information Technologies in Education (IITE), recently discussed ways to strengthen cooperation in areas supporting the development of smart learning as one of the basic pillars of manufacturing and ensuring a brighter future during a meeting with Dr Susan Aldridge, PhD, President of Drexel University Online.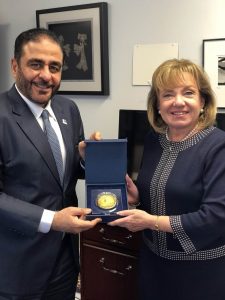 Dr. Mansoor Al Awar, Chancellor of the Hamdan Bin Mohammed Smart University (HBMSU) 
with Dr. Susan Aldridge, Ph.D., President of Drexel University Online
Al Awar emphasized the importance of enhancing channels for exchanging best practices and successful experiences with the best academic institutions and universities in the world. This, he explained, would help optimize the use of the latest technological innovations to facilitate smart education and distance learning according to the highest standards of efficiency, excellence and inclusiveness. He affirmed the commitment of HBMSU to explore new horizons for forging fruitful strategic partnerships with the international academic community to continue the process of excellence in reshaping the future of learning across the Arab World through technology, innovation, and scientific research.