More than 81,000 certificates awarded so far by the Ministry of Education & HBMSU
HE Dhahi Khalfan: "Our country offers the world a model to follow by enabling the education system to respond efficiently & effectively to emerging shifts & challenges"
Mansoor Al Awar: "HBMSU continues to take the lead in providing quality education for all societies, supporting the UAE leadership in serving the 2030 Agenda for Sustainable Development"
92,000 affiliates in "How to become an online tutor in 24 hours " and " design an online course in 24 hours" in a record time
United Arab Emirates, March 24th, 2020 – Marking yet another achievement in establishing a strong foundation for distance learning initiatives, Hamdan Bin Mohammed Smart University (HBMSU), in cooperation with the Ministry of Education, continues to equip teaching and academic professionals from inside and outside of the UAE with skills needed to manage and operate online classrooms via the internet. The University's courses are receiving an overwhelming response with over 92,000 participants from more than 60 countries registering for the two free online e-courses, which are available in English and Arabic. The success of the two courses titled 'How to Become an Online Tutor in 24 Hours' and 'Design an Online Course in 24 Hours' led to 6,300 discussion sessions, with more than 81,000 certificates distributed so far. The highly positive response received by the two courses reflect their global impact and success as a first of its kind initiative that has been designed to upskill teaching professionals by enabling them to provide quality distance education, in accordance with international best practices and in less than 24 hours. In addition, the growing popularity of these courses also underscore the UAE's achievements in establishing distance learning as a strongest pillar to ensure the continuity of education, in view of the developing circumstances around the world.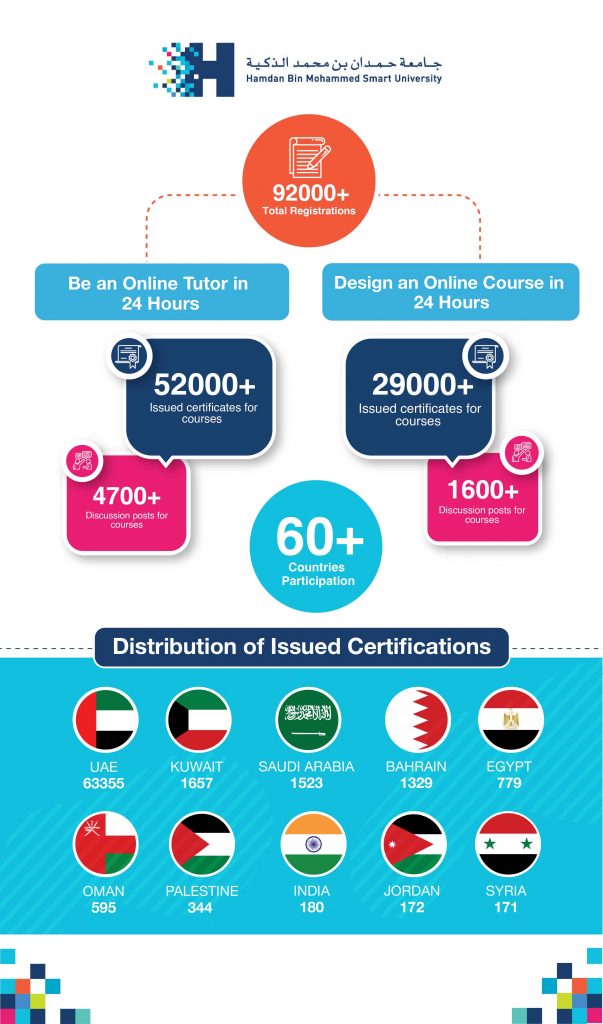 H.E Lieutenant General Dhahi Khalfan Tamim, Deputy Chairman of Police and General Security in Dubai and Chairman of HBMSU's Board of Governors, pointed out that the UAE offers the world a great model that is capable of redefining the education system and enabling it to respond efficiently and effectively to emerging global changes and challenges. He added that preparing academic professionals to lead education in the digital era remains at the forefront of the UAE's strategic priorities in order to ensure easy access to quality education. This kind of education will prepare younger generations to achieve academic excellence at the global level and will contribute to shaping the future of the country in line with the insightful vision of our wise leadership.
H.E added: "Our fruitful cooperation with the Ministry of Education has awarded 81,000 certificates to teachers/academicians from around 60 countries so far. This success is reflective of HBMSU's commitment to lead the national efforts to transfer smart knowledge to the educational system to match the best in the world. This will enhance the role of our country as an influential force in the achievement of international goals that aim to ensure the quality of comprehensive and fair education, in addition to providing lifelong learning opportunities for all, which will lead to a better world for us and our future generations."
Dr Mansoor Al Awar, chancellor of HBMSU, explained that the positive global impact of the courses that qualify educational professionals within 24 hours reaffirms the UAE's leadership in the field of distance learning. In line with the vision of our leadership to transfer smart knowledge to the educational system, it makes a real difference in the lives of peoples by offering smart education and lifelong learning opportunities. He affirmed HBMSU's commitment to support the UAE's efforts to ensure quality education for all societies, thereby serving the goals of the United Nations 2030 Agenda for Sustainable Development.
"Having excelled in the field of smart learning, a main component of the UAE educational system, the time has come to share our successful experience among the Arab countries and the rest of the world. In line with the directives of H.H. Sheikh Hamdan bin Mohammed bin Rashid Al Maktoum, Crown Prince of Dubai and President of HBMSU, we are committed to continue our fruitful partnership with the Ministry of Education, with an aim to qualify and empower more educational professionals worldwide so that they can lead smart education and distance learning initiatives. Our priority is to keep introducing pioneering educational initiatives to reshape the future of education and qualify knowledge ambassadors, entrepreneurs and future leaders who are capable of driving growth and development. We are happy to see the positive response received by our free online courses that will pave the way for a new era of excellence in education based on encouraging people to invest in knowledge, innovation and leadership." Al Awar added.
More than 81,000 certificates have been awarded so far to the participants of 'How to Become an Online Tutor in 24 Hours' and 'Design an Online Course in 24 Hours' courses, amid wide participation of applicants from all over the world. Educational professionals from the UAE topped the list with 63,355 certificates, followed by Kuwait and KSA with 1657 and 1523 certificates respectively. The new courses have been attracting increased number of participants from more than 60 countries, including, in addition to the UAE, Kuwait and KSA, USA, India, Bahrain, Egypt, Oman, Palestine, Syria, Jordan, Lebanon, Tunisia and Morocco, among others.
The two new courses are offered online for free in Arabic and English. The first course, titled 'How to Become an Online Tutor in 24 Hours,' focuses on several themes namely online education technology landscape; online learning management tools; communication tools; and production and content creating tools. The second course titled 'Design an Online Course in 24 Hours' focuses on the skills needed to design online educational courses and the designing and planning of online lessons using advanced educational tools.
HBMSU embraces the School of e-Education, which offers high-level academic programs that meet the urgent need in the Arab world for the availability of quality modern education across all audiences. The school is recognized as the first-of-its-kind in the region in terms of providing an opportunity for professionals and researchers to master the use of learning technologies and the dimensions of developing e-learning content from implementation, delivery and evaluation processes.
The school programs are distinct and specifically designed to respond to the market demands and features programs such as the Master of Science in Interactive Educational Technologies; Master of Arts in Online Education Leadership and Management; Master of Arts in online Curricula and Instruction; and Doctor of Philosophy (Educational Leadership); along with the 'Faculty Certificate in Smart Learning: Certified Online Faculty,' which allows certificate holders of 'How to become a distance teacher in 24 hours' and 'How to design an online lesson in 24 hours' to continue honing their distance education skills.