UAE, March 15, 2020 – In line with the UAE's efforts to implement a 'Distance Learning' initiative, the Ministry of Education, in cooperation with Hamdan Bin Mohammed Smart University (HBMSU), has successfully qualified more than 42,000 affiliates who recently underwent e-training in distance learning within the last 24 hours. The participants completed the 'Be an online tutor in 24 hours' course that was launched online to provide necessary training to teaching and academic personnel of various levels about online education processes, including managing and operating online classrooms via the internet and helping acquire the necessary experiences related to how to use modern technology techniques to fully perform their roles. More than 22,000 certificates have been issued, in an unprecedented achievement that serves the goals of the national agenda for UAE Vision 2021 in developing a high-level educational system that ensures the investment of human capital in innovation, leadership and knowledge in line with the requirements of the digital era.
The outstanding results of the initiative can be attributed to the close cooperation between the UAE Ministry of Education and HBMSU to launch two online training courses, with an aim to enhance the distance learning system and ensure its continuity. The initiative also helped improve the management of online learning in order to overcome current and future challenges, while also reinforcing the UAE's leadership in the transfer of smart learning capabilities, reflecting an educational system that is among the best in the world. Following the successful completion of the first course, the second session, titled 'Design an Online Course in 24 Hours' is set to begin this week. The free course in both Arabic and English has been designed to further improve academic professionals' ability to provide quality distance education in accordance with international best practices.
His Excellency Eng. Hussain bin Ibrahim Al Hammadi, Minister of Education, stated that the Ministry remains keen to adopt best practices in education, noting that the specialized online training for teaching and administrative professionals, according to the best technological models that simulate leading global approaches to education, is of great significance. His Excellency said: "We are more prepared today for the future with a comprehensive online learning and training environment, which reflects the UAE's aspirations in the shift towards smart education and the use of technological resources and educational competencies in the service of the academic community."
His Excellency Al Hammadi continued: "The distance learning training programs that were recently launched by the Ministry contribute to the establishment of a creative training environment consisting of virtual learning societies and based on the concept of interactive, virtual classes, in accordance with international best practices and targeting all academic levels. This newly developed approach aims to qualify teachers in innovative ways, keeping pace with advancements that enable them to assume a major and effective role in supporting the distance education initiative."
His Excellency explained that the cooperation with Hamdan Bin Mohammed Smart University takes several forms, adding: "We have absolute faith in the University's efficiency and its superior capabilities in integrating technology in the service of education." HE Al Hammadi pointed out that the launch of two free training programs in cooperation with HBMSU reflects the success of joint efforts to upgrade the capabilities of faculty and academic professionals at all levels to design, produce and manage a semester online professionally and in a highly efficient manner, in line with the highest standards of excellence.
His Excellency hailed the efforts of HBMSU in developing and organizing a series of free training workshops that have been designed to equip teachers with necessary skills to conduct distance learning and to enable them to communicate effectively through digital educational platforms. He emphasized that the launch of the second course will truly complement the success of the first one, contributing to the UAE's aspirations to raise educational excellence in future generations.
H.E. Lieutenant General Dhahi Khalfan Tamim, Deputy Chairman of Police and General Security in Dubai, Chairman of HBMSU Board Governors, pointed out that the UAE is a pioneer in distance learning, addressing rapidly evolving global changes with flexibility, competency and full effectiveness, thanks to the unlimited support from the wise leadership to bring about a radical change in education. H.E emphasized that this is an ideal opportunity to popularize smart education and distance learning in order to move away from the traditional education system and provide a unique learning experience led by academic excellence, innovation and adoption of modern technology. HE Khalfan reaffirmed the University's unwavering commitment to redefining the role of learners, faculty, curriculum management and educational environments, which is necessary to create new generations of pioneers and leaders who are qualified to shape and create the future. He added that HBMSU, under the directives of His Highness Sheikh Hamdan bin Mohammed bin Rashid Al Maktoum, Crown Prince of Dubai and HBMSU's President, continues its pivotal role in redefining higher education by making optimal investments in human capital, which is the UAE's most valuable asset.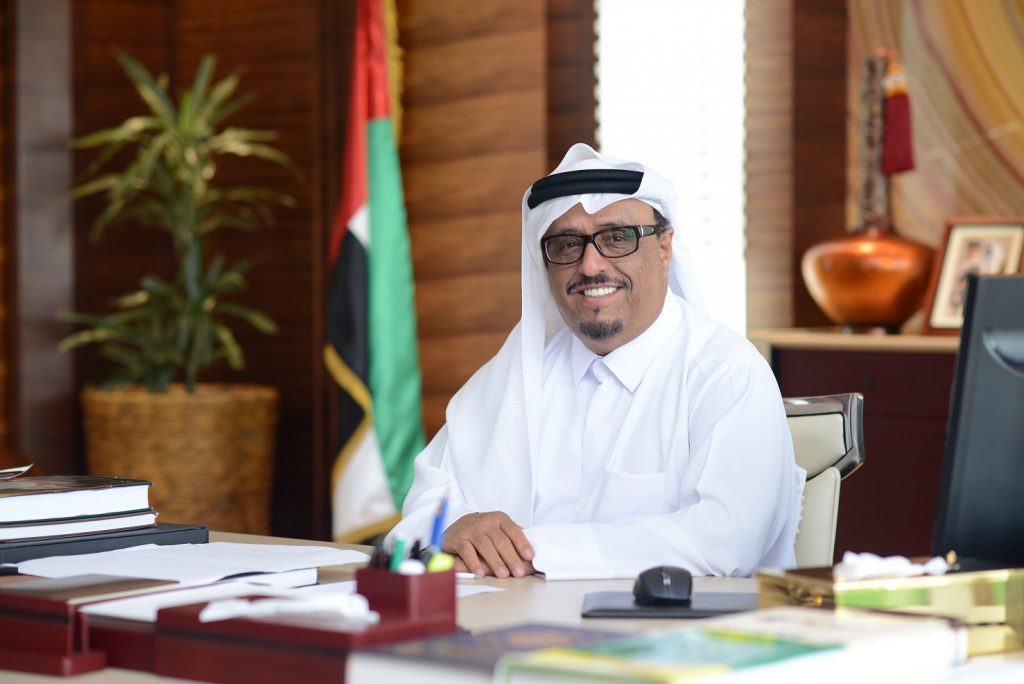 Dr. Mansoor Al Awar, Chancellor of HBMSU, said: "We, at Hamdan Bin Mohammed Smart University, are pleased to be among the first to support the distance learning initiative, investing our accumulative experiences, advanced technological capabilities, and knowledge and academic resources in serving the nation and the educational and academic community to ensure that faculty members at all levels of education are provided with advanced tools of digital era, which enables them to achieve maximum benefit from smart education platforms and distance education with ease. In view of the urgent need to reorient teachers' approach towards supporting the country's efforts to overcome obstacles and create new horizons for investment in the educational sector in line with the requirements of the future according to the UAE Vision 2021 and the UAE Centennial 2071, we remain committed to providing an integrated portfolio of training programs that are specially designed to enable teachers and parents to embrace smart education model within a record time frame of 24 hours."
Al Awar concluded: "The initiative reflects our absolute commitment to reshaping the future of learning and education to transform learners from recipients to innovators, decision makers and future leaders, drawing inspiration from the directives of HH Sheikh Hamdan bin Mohammed bin Rashid Al Maktoum, Crown Prince of Dubai, President of the University, in making education an engine for positive energies, and a catalyst for creative minds that can be relied upon, in the journey of progress and development.
The new training courses are available online free of charge in both Arabic and English. The first course, a four hour-course titled "Be an Online Tutor in 24 Hours" has several modules, the first of which is "Online Learning Technology Landscape." Other modules are "E-learning management tools," "Communication tools" and "Creation Tools." The second course, which takes place over two hours, titled "Design an Online Course in 24 Hours," focuses on developing online classroom and planning and designing online lessons in few steps by using modern and advanced educational tools. The participants will get accredited certificates after the successful completion of both courses based on Hands-On and Learning by Doing approaches. The course is designed for academic staff members, university professors, and training experts.
After completing either of the "Be Online Tutor in 24 Hours" and "Design an Online Course in 24 Hours," faculty and educational members can continue to hone their distance learning skills by enrolling in an advanced course to obtain a "Faculty Certificate in Smart Learning: Certified Online Faculty." The advanced course allows teachers in the traditional teaching environment (face-to-face) to become specialists in online and smart learning in their field of specialization, keeping pace with rapid shifts in the global education field.