UAE, November 19, 2018 – The Italian football giant Juventus' GCC Legend Tour started in Ras Al Khaimah and will take place in Dubai and Abu Dhabi with the Legend Edgar Davids and the Cup of the Italian League, which Juventus has won for the seventh year in a row.
The academy for players from 4 to 17 years old kicked off last September in nine locations across UAE and will host over 1000 players by the end of the sports season. Last April the project won the award as best football Academy at the UAE Teen & Fitness Awards.
Over 30 Italian and European qualified coaches approved by Juventus across three emirates, tournaments, leagues and amazing locations are part of the Juventus Academy's project, aimed at helping young footballers take their first steps into the football world by educating them in the globally renowned Juventus method.
Boys and girls from 4 to 17 years old will play in leagues, events, matches, tournaments; the coaches will periodically create assessment days, to monitor and develop the players' growth and recently the Academy launched its first ladies team in Sportsmania JLT.
Moreover, during the sports season the young players will travel to Italy to enjoy the Juventus Training Experience and Juventus Academy World Cup, a tournament organized by Juventus within all its academies from all over the world.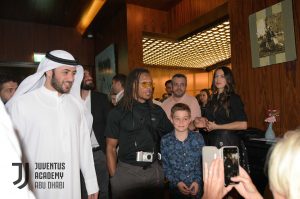 The Juventus Legend Edgar Davids said he is very happy to start the UAE Tour from Hilton Garden Inn in the beautiful Emirate of Ras Al Khaimah, he added that the Juventus Academy project is expanding all over the world and he is impressed by locations, organization and number of kids in Ras Al Khaimah, Dubai and Abu Dhabi. As a former Juventus player, he mentioned his happiness to see the Academy project growing so fast in the United Arab Emirates.
Ahmed Rahma, Vice Chairman of Al Masaood and Chairman of JSports LLC, said: "It was a pleasure to host Edgar's latest visit to Abu Dhabi. The event gave Edgar and us at Al Masaood an opportunity to demonstrate anew our shared commitment to help our aspiring young football players improve their skills through our training programs designed by no less than Europe's greatest coaches. We look forward to meeting him again in the future for other similar fun and exciting activities."
FFG Sports Management's Chairman Mohammed Lajam: ""We are proud to have successfully launched our fourth season with one of the greatest youth football projects in the world. With our partner Al Masaood Group we are increasing the Juventus presence in the region".
Fabrizio Puglisi, FFG Sports Management's CEO: "After Ras Al Khaimah, we are ready to open new branches all over the United Arab Emirates and we are very honored to host the 36th Italian League Cup and Edgar Davids this year, after David Trezeguet. We would like to thanks our local partners on this special occasion."
For the Emirate of Abu Dhabi, the Juventus Academy project is managed by JSports LLC, a joint venture between Al Masaood LLC and FFG Sports Management LLC.
The Juventus and Netherlands national team legend Edgar Davids took the time out to autograph football jerseys, visit many locations as well as grant interviews to reporters. He also interacted with the members of the Juventus Official Fan Club in the UAE during meet-and-greet sessions in the UAE.
The Juventus Academy season kicked off from mid September in Dubai at JSS Private School (near Safa Park) Sportsmania (Jumeirah Lakes Towers), Target Football Fields (Al Qusais), Gulf Heroes Sports Club (Mirdif), GEMS Wellington Primary School (Jumeirah), Abu Dhabi at Abu Dhabi Cricket and Dome@Rawdhat and Ras Al Khaimah (Marjan Island & GEMS Westminster RAK).