Mansoor Al Awar presents report for 
UNESCO Institute for Information Technologies in Education 
during UNESCO General Conference in Paris
UAE, November 7, 2017 –
Dr Mansoor Al Awar, Chancellor of the Hamdan Bin Mohammed Smart University (HBMSU) and Chairman of the Governing Board of the
United Nations Educational, Scientific and Cultural Organization (UNESCO)
Institute for Information Technologies in Education (IITE),
recently participated in several meetings at the UNESCO General Conference in Paris and presented his report on the UNESCO IITE including 'Policy Advocacy and Technical Assistance,' 'Teacher Professional Development', 'Open Education Resources and Digital Pedagogy,' as well as 'National Capacity Building for ICT in Health and Wellbeing Education'.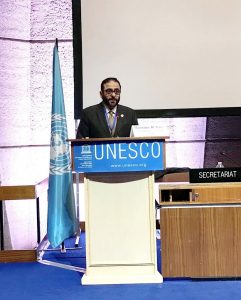 Dr. Mansoor Al Awar, Chancellor of the Hamdan Bin Mohammed Smart University (HBMSU) and Chairman of the Governing Board of the 
United Nations Educational, Scientific and Cultural Organization (UNESCO) 
Institute for Information Technologies in Education (IITE)
Al Awar highlighted the activities of the IITE Governing Board, including networking and strategic partnerships as well as challenges and lessons learned. He also emphasized the ongoing efforts to support UNESCO's initiatives in realizing education's goals up to 2030 to provide a fair and inclusive education and promote the lifelong learning opportunities for all. On the sidelines of the meetings, Dr. Al Awar also took part in a meeting with H.E. Hussain Ibrahim Al Hammadi, Minister of Education for the UAE and Minister of Education of Switzerland, which addressed common issues and shared interests in education.