honored by BUiD for the success of Dubai Energy Efficiency Training Program
Dubai, 20 December 2018 – His Highness Sheikh Ahmed Bin Saeed Al Maktoum, Chancellor of British University in Dubai, honored Ali Al Jassim, CEO, Etihad ESCO, in recognition of the success achieved by the Dubai Energy Efficiency Training Program, during the graduation ceremony held at the British University in Dubai (BUiD) on December 19, 2018. The Program was set up by TAQATI, established by Dubai Supreme Council of Energy (DSCE) under Etihad ESCO, in April 2018 with an aim to build the right capabilities to achieve Dubai's ambitious target of 30 per cent reduction in energy consumption by 2030, and to foster a community of innovators and thought leaders to spearhead Dubai's energy efficiency measures; and to create value for the emirate by offering continuous opportunities for professional development. The Energy Efficiency Training Program combines an array of internationally and locally certified training programs and modules to cater to the learning and development needs of various stakeholders in Dubai's energy sector. A Performance Contracting and Funding Certification (PCF) course was organized for the first time in the UAE in September 2018, as part of the Program.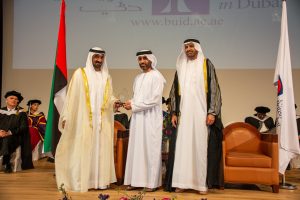 "It is with immense pleasure that I received this recognition at the British University and would like to take this opportunity to congratulate the students who are graduating this year. I wish them a very successful future ahead. The Dubai Energy Efficiency Training Program is an initiative by the Dubai Government, mandated by the Dubai Supreme Council of Energy (DSCE) and led by TAQATI, in partnership with BUiD. The program has made great strides in the achievement of its objectives, taking us closer to our energy efficiency and sustainable development goals in line with Dubai's and UAE's Visions. As we mark the completion of the first year of this initiative, we are confident that a growing number of stakeholders in Dubai's energy sector will take advantage of the program to hone their skills and capabilities, adding further momentum to the emirate's march to the forefront of energy efficiency, globally" said Al Jassim.
Registration for 2019 courses are now open. The 2019 calendar includes new courses to address capability gaps identified in the market, particularly in the areas of water efficiency, carbon reduction and energy efficiency basics.