Ties expected to provide variety of Arabic audiobook collection
Dar El-Shorouk's publications to be available on Storytel platform in First Quarter of 2019
UAE, December 23, 2018 – Storytel Arabia, the newly-launched division of Europe's leading platform for audiobooks, recently entered into a partnership with Dar El-Shorouk, one of the most prominent and prestigious publishing houses in the Arab world, as part of its ongoing bid to increase its catalogue of Arabic audiobooks to cement its market presence in the region.
In line with the agreement, Dar El-Shorouk will provide Storytel Arabia with a license to produce the audiobook editions of Dar El-Shorouk publications. The latest collaboration is a major boost to Storytel's efforts to increase its market share by connecting to more Arab-speaking readers. Following their cooperation, more than 600 Arabic titles are expected to be added to Storytel's existing collection of 1,000 Arabic audiobooks.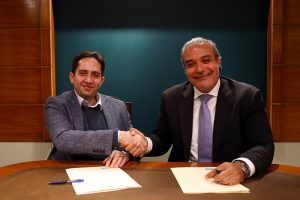 Dar El-Shorouk is the only Arab publisher that is given the exclusive right to print, translate and distribute the works done by two Arab Nobel Prize laureates, Naguib Mahfouz and Ahmed Zewail. And Turkish Nobel Prize Laureates Orhan Pamuk, It also publishes the masterpieces of award-winning Arabic authors Bahaa Taher, Hisham Mattar, Youssef Ziedan, Alaa Al-Aswany, Ahdaf Soueif, Tawfiq Al-Hakim, Ahmed Murad, Radwa Ashour, Zaki Naguib Mahmoud and Mohamed Hassanein Heikal. Dar El-Shorouk publications will be available on the Storytel platform by the first quarter of 2019. With its titles distributed across the world, Dar El-Shorouk has acquired the most number of international awards and prizes.
Ammar Mardawi, Country Manager, Storytel Arabia, said: "This partnership is the key to our strategy focusing on reinforcing Storytel's presence in the Arab market. Dar El-Shorouk boasts the most distinctive list of award-winning titles and authors, many of them legendary thinkers, literary figures and statesmen. Through our collaboration, we at Storytel will be able to significantly increase our Arabic audio content from our existing collection of over 1,000 Arabic titles. This collection can be easily accessed by subscribing to the Storytel app. The agreement will have a good impact on increasing the number of our listeners, not only in the Arab region but from all over the world, due to the importance of the authors and titles in our collection."
Ahmed Bedeir, General Manager, Dar El-Shorouk, said: "This partnership will allow us to see the full potential of the audiobook segment. We are bullish that this segment will continue to thrive at an exponential rate in the coming years. Together with Storytel, we will continue to provide principles of diversity, freedom of thought, professional excellence, and continuous innovation. We are confident that Storytel will be able to generate high-quality productions of the works of our highly acclaimed prize-winning authors. Through this partnership, we are now able to expand our reach to new markets beyond the Arab region, enabling us to connect with both Arab and non-Arab speakers who love Arabic literature."
With over 4,000 titles to its name, Dar El-Shorouk has gained the reputation over the years as one of the leading publishers in both scholarly and general interest books with special strengths in literature, current affairs, history, politics, and art books. To effectively connect consumers to the content they love, Storytel's strategy is to build key partnerships with quality local publishers.