In line with initiatives aimed at equipping young generation with knowledge, research tools, and leadership skills.
Mansoor Al Awar: "We are committed to dedicating our knowledge, resources and accumulated experience to support the Ministry's aspirations in line with the directives of HBMSU's President to reengineer education as we gear up for the future."
UAE, August 24th, 2020 – In a major contribution to support the Ministry of Education's 2020 online academic activities for the summer, Hamdan Bin Mohammed Smart University (HBMSU) has successfully completed two courses: the Scientific Research and Entrepreneurship being administered through the National Ambassadors Program "Estedad", UAE's first of its kind initiative aimed at equipping young generation with knowledge and research skills, as well as leadership and diplomatic skills. The program is considered as key elements to the youth's success in the 21st century, which will enable them to shape the country's future and lead national development for the next 50 years.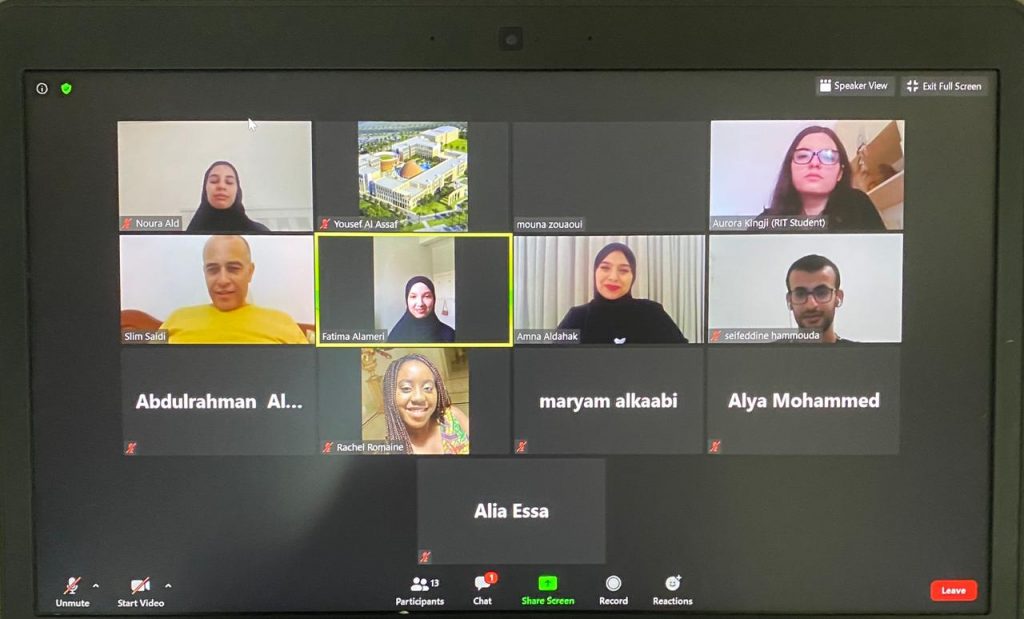 As a leader in reengineering the educational landscape in the region  and worldwide, HBMSU has been playing an important role in ensuring the successful implementation of Estedad's courses in entrepreneurship and scientific research, capitalizing on the University's extensive experience in graduating knowledge ambassadors, innovators, scientists, entrepreneurs, decision-makers and future leaders in line with the directives of H.H. Sheikh Hamdan bin Mohammed bin Rashid Al Maktoum, Crown Prince of Dubai and President of HBMSU.  
In line with its commitment to utilize its strengths in empowering the young generation through knowledge and innovation and lead the UAE towards becoming a global leader in these fields, HBMSU has dedicated its accumulated experiences and advanced technologies to support the Ministry of Education in its goals. In this respect, a group of talented  Master's Alumni  from HBMSU participated in the virtual sessions and webinars, which were held between  for three weeks during the summer break.
Dr. Amna Al Dahhak Al Shamsi, Assistant Undersecretary for the Welfare and Activities Sector, Ministry of Education, joined the final entrepreneurship courses. Al Shamsi shared with the learners her experience, commending the HBMSU-led efforts to support the national approach to develop a world-class educational system that optimizes human talents being the country's most important asset, in accordance with the UAE Vision 2021.  
Dr. Mansoor Al Awar, Chancellor of HBMSU said: "Supporting the 'Estedad' program is part of HBMSU's commitment to take lead in the transformation of the education sector, inspired by the wise vision of H.H. Sheikh Hamdan bin Mohammed bin Rashid Al Maktoum, Crown Prince of Dubai and President of HBMSU, in re-engineering education and prepare for the future. The success of the two tracks focused on scientific research and entrepreneurship, which is part of such a major national programme, is a considerable step forward towards improving the quality of the educational system and establishing the foundation for the UAE's future readiness in the next 50 years. The new achievement drives us to keep moving ahead in our efforts to put our vision into effect and continue to encourage young people to engage in modern science practices and other vital disciplines. This approach will pave the way for achieving our vision of building a diversified knowledge economy based on innovation and sustainability and create a more secure and prosperous future."
Al Awar added: "We reiterate our strong commitment on the HBMSU pioneering global experience, to make it useful in contributing to national efforts to improve the educational system and create a positive learning environment that enhances creativity, intellectual capabilities, and analytical skills. It is part of our vision to usher a generation of graduates highly qualified to raise the flag of the UAE in front of the world, armed with knowledge, scientific skills and technology, which are essential pillars in national economic and social development."
Benefiting from its pioneering experience in re-engineering the future of learning and education regionally and globally, HBMSU implemented the scientific research and entrepreneurship courses which are part of the Ministry of Educaiton's 'Estedad' program. The national ambassadors' program also included three other tracks such as "Enrichment", "Diplomacy" and the " Sustainability", designed to enhance students' abilities to make a smooth and efficient transition to university and further professional studies.
The 'Estedad' track for Scientific Research focused on providing UAE students with the latest scientific research and innovation methodologies and the highest practical and academic skills needed to subsequently obtain university admission, with a focus on enhancing their ability to analyze situations, identify problems, make decisions and evaluate results, to achieve distinction and success in various vital fields.
The university also concluded the 'Estedad' track for Entrepreneurship, which gained the University' support through its various achievements in empowering youth with knowledge, education and experience in innovation and entrepreneurship for sustainable development. The course provided the learners with skills in critical thinking, problem-solving, effective communication, risk-taking, collaboration, and initiative. It also catalyzed their interest towards entrepreneurship through innovation and creativity, which are the key drivers to economic diversification and a strong factor to ensuring prosperity in the future.