Outstanding Achievement Towards Reshaping Future of Higher Education Using Advanced Technology
Dhahi Khalfan Tamim: "We congratulate our wise leadership on our unprecedented regional achievement & take pride in HBMSU's leading position that supports UAE's competitiveness on global educational landscape."
Mansoor Al Awar: "With our adoption of AWS, we continue to pioneer change & progress in line with directives of HBMSU's president to build a knowledge society and invest in creative minds and promising competencies to ensure our readiness for future."
Move highlights HBMSU's commitment to harnessing Cloud Computing, to redefine future of education in 21st century.
Dubai, UAE, July 1st, 2020 – Hamdan Bin Mohammed Smart University (HBMSU) announced today (Wednesday, July 1, 2020) the successful and complete migration of its systems and applications from its on premises data centers to the leading technology of the Amazon Web Services (AWS) Cloud. This development is in line with HBMSU's pioneering efforts to establish a new educational culture by shifting away from the on premises, traditional model of education in order to raise highly qualified and globally competitive future generations. The advanced digital transformation initiative has made HBMSU the first university in the Middle East and North Africa (MENA) region to shift its on premises legacy systems to a full cloud computing model on AWS. The achievement further highlights the success of the University's efforts to develop its technological resources and smart infrastructure, which was lauded by the global technology cloud service provider AWS; as a leading model in the sector in the region.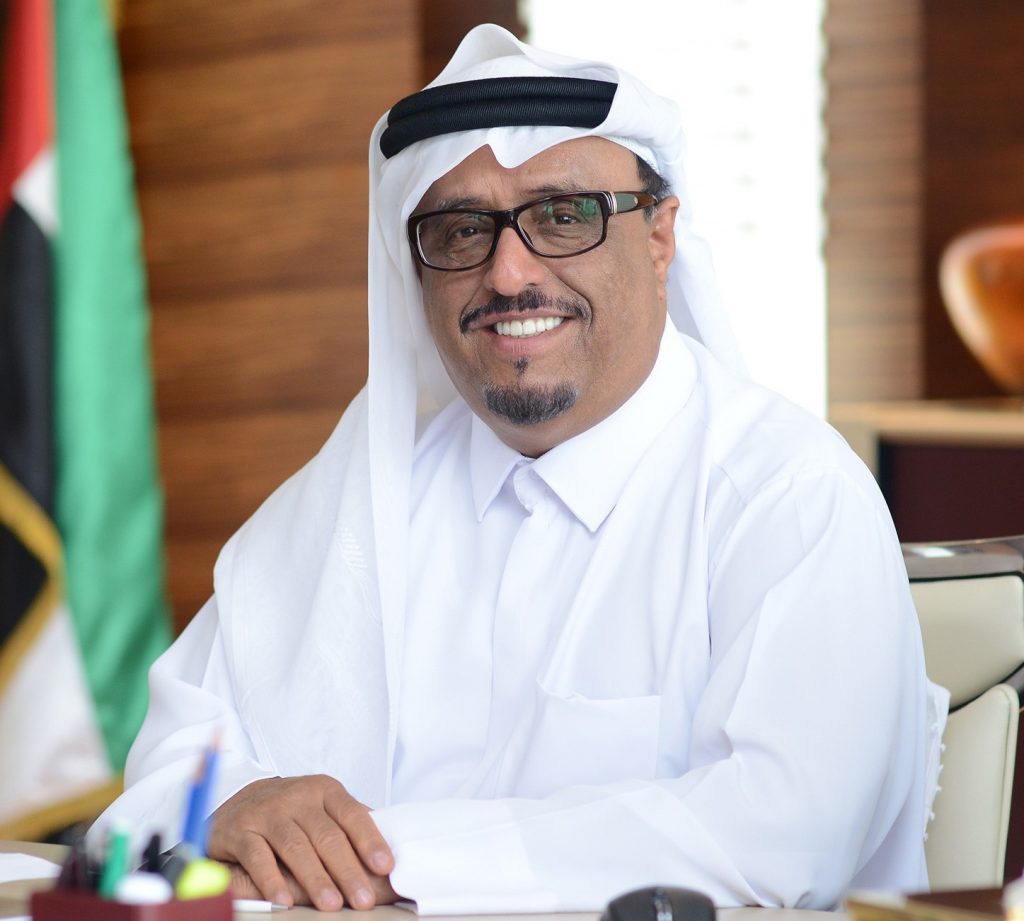 The strategic collaboration with the AWS reflects HBMSU's commitment to make a fundamental and positive change in the education system in order to provide the best education to innovators and creators of the future, in accordance with the directives of His Highness Sheikh Hamdan Bin Mohammed Bin Rashid Al Maktoum, Crown Prince of Dubai and President of HBMSU, to enhance the readiness to build the future based on quality education. The announcement was made during a virtual media event held via the ZOOM platform, with the participation of high-profile dignitaries including H.E. Lieutenant General Dhahi Khalfan Tamim, Deputy Chairman of Police and General Security in Dubai and Chairman of HBMSU's Board of Governors; Dr. Mansoor Al Awar, Chancellor of HBMSU; Paul Grist, Head of Education, International, AWS; Zubin Chagpar, Head of Middle East and Africa, AWS.
The migration to the AWS Cloud is of great significance as it reinforces HBMSU's position as a role model in harnessing the capabilities of advanced technologies and Cloud Computing in reshaping the future of education according to the requirements of the 21st century. The University's forward-thinking approach focuses on the principles of innovation, scientific research and technological development to establish the culture of smart learning as cornerstones in the creation of a new generation of entrepreneurs, innovators, knowledge ambassadors and future leaders instead of just job seekers. The new achievement is the result of close coordination and joint efforts that lasted several months to ensure the complete and successful migration to the AWS Cloud. The achievement also highlights the efficiency and flexibility of the advanced educational technology infrastructure adopted by HBMSU, which positions it as a leading contender on the global education landscape. HBMSU's efforts to get ahead of other global universities by 10 years are backed by advanced educational methods and innovative academic tools that simulate the future.
His Excellency Lieutenant General Dhahi Khalfan Tamim expressed his pride in HBMSU's regional and global leadership in smart learning, adding that the complete and successful migration to the AWS Cloud is a great milestone and an unprecedented achievement in the Middle East and North Africa region. H.E offered his warmest congratulations and sincere gratitude to the wise leadership, stating that the latest achievement further consolidates the UAE's competitiveness on the international education scene. He added that the initiative is of great importance as it drives the national efforts aimed at supporting the continuous development of the education sector, in line with the vision and directives of His Highness Sheikh Mohammed bin Rashid Al Maktoum, Vice President and Prime Minister of the UAE and Ruler of Dubai, to improve education as a key to flexibility needed to better respond to the rapidly evolving developments.
H.E added: "The achievement of HBMSU as the first educational institution in the MENA region to migrate its on-premises legacy systems to the leading technology of AWS confirms its active and pivotal role in supporting the UAE's vision to develop an integrated educational system that is among the best in the world and to create generations who are cognitively, academically and creatively qualified to guide the progress."
H.E. concluded: "We look at this latest achievement as an advanced step in harnessing technological innovation in transforming universities into hubs for innovation and excellence to produce young people equipped with the tools of the times to move confidently towards the future. We are confident that this transition towards cloud computing marks the beginning of a new era of academic and cognitive excellence, complementing the University's role as a pioneering hub for smart learning in the Arab world."
Mansoor Al Awar said: "We are proud of our new regional achievement that marks the latest milestone in our continuing journey to redefine learning and education, led by a unique vision to be ahead of other global universities by 10 years and to pioneer change and development in the field of higher education. Our efforts fall in line with the directives of His Highness Sheikh Hamdan bin Mohammed bin Rashid Al Maktoum, Crown Prince of Dubai and President of HBMSU, to raise the competitiveness of our universities in order to establish a knowledge-based society, and to make optimal investments in encouraging creative minds and promising talents to develop them into future leaders."
"Our constructive partnership with AWS represents a great step forward in strengthening our preparation for the future and enhancing our readiness for the next 50 years, in line with the wise vision of His Highness Sheikh Mohammed bin Rashid Al Maktoum, Vice President and Prime Minister of the UAE and Ruler of Dubai, who said "We want to pass the next fifty years with new education, different schools, and a generation that has the tools and skills to complete the development progress" Al Awar added.
Al Awar added: "Cloud computing stands out today at the forefront of advanced technologies that represent a top priority in our determined efforts to advance higher education locally, regionally and globally, shifting away from the traditional, on premises approach that has become obsolete for any society that wants to compete in today's global arena. AWS's leading cloud computing technology and features open up opportunities for us to spread our footprint as a unique model for smart learning, based on innovation, and quality, enriching the stock of knowledge, scientific research, and entrepreneurship, to produce generations that are able to make a better and more sustainable future."
"We are proud of our cooperation with AWS, the latest in a series of our international cooperation that reflect our absolute commitment to work in accordance with our fundamental principle of 'Together We Grow,' while we redefine education according to the pillars of innovation, disruption and transformation, and provide a unique educational and research product that will change the face of education at the regional and global levels. We renew our commitment to placing our long years of experience in the service of ambitious aspirations in creating an educational system capable of discovering, guiding and employing talents in the path of growth, progress and prosperity," he concluded.
Zubin Chagpar, Head of Middle East and Africa, AWS, said "Cloud computing today is transforming the education sector and enabling educational institutions to build secure environments for mission-critical applications, freeing them to focus on student success. We are excited to see how quickly HBMSU has been able to realize their vision using the AWS cloud, as they become the university of the future with a focus on bringing new and exciting learning experiences to students. It is great to see the effort that the university has put into skilling its own teams in order to ensure that they are able to realize the full potential of the AWS cloud. We look forward to continuing to work with HBMSU as it further innovates on the cloud with new teaching and learning solutions."
For 14 years, Amazon Web Services has been the world's most comprehensive and broadly adopted cloud platform, offering more than 175 fully featured services from datacenters across the globe. Millions of customers around the world, including the fastest-growing startups, largest enterprises, and leading government agencies, rely on AWS to reduce operational costs, and become more innovative, agile and flexible. This migration enables HMBSU to shift its entire services and applications to AWS Cloud; a step that will have positive impact on the performance of students as well as the academic community, enabling access to the University's services anywhere, anytime. Furthermore, this milestone will enhance HMBSU's responsiveness, speed, and flexibility, in addition to supporting its computing infrastructure, expanding the scope of connecting globally with new geographical areas within a few minutes, and without any additional costs.
The digital transformation initiative provides many competitive advantages to HBMSU, including reduced costs by applying a utility model according to the actual use. This step also enables the University to use computer capacities that can instantly be adjusted automatically according to needs and without having to make advance estimates of capacity. In addition, it increases the speed and efficiency of services and operations by providing resources to the University's developers within minutes instead of waiting for weeks or months. The achievement further opens new horizons for innovation, research and exploration, and enables the University to enhance its global footprint easily and without restrictions, thereby placing its leading capabilities and expertise within the reach of learners, anywhere and anytime with just one click of a button.
This achievement will enable HBMSU to obtain the highest international accreditations from the most prestigious educational bodies, capitalizing on the global network of AWS. . In addition, collaboration between HBMSU and AWS enables the University to create multiple cloud-based virtual datacenters using Amazon's virtual private clouds (VPC), while maintaining highest levels of security and reliability, together with seamless control of data flow.
Trusted by renowned organizations all over the world, AWS is the best option when it comes to highly-reliable cloud services for various applications, including computing, datacenters, data storage, networking, portable devices, machine learning, IoT, artificial intelligence, governance, web applications, game development, security, compliance and other services. The new collaboration will ensure HMBSU's access to premium features that can enhance controls of cloud resources and deployment methodologies, as well as multi-level security systems and protection tools against all sorts of malicious attacks including distributed denial-of-service (DDoS).
Among numerous other features, AWS offers an integrated package of full-fledged services designed to meet the requirements of students and employees, such as improving productivity, providing real-time communication anywhere, anytime and enabling remote desktop access. The service portfolio also includes Secure Cloud Desktops, Secure Application Streaming, Virtual Contact Center, Remote Communication and Collaboration, Secure Content Collaboration, Secure, Scalable, Remote Network Access, Virtual workstations for creative professionals, together with access to a global network of AWS-certified experts.