The award aims to recognise best practices in energy efficiency to enhance constructive contribution to a sustainable future
 Amman, Jordan, 27th November 2018 – Under the patronage of HH Sheikh Mohammed bin Rashid Al Maktoum, UAE Vice President and Prime Minister and Ruler of Dubai, the Dubai Supreme Council of Energy (DSCE) unveiled the fourth edition of Emirates Energy Award (EEA) – 2020 at a press conference held at Fairmont – Amman, Jordan on 27th November. The DSCE's move comes as part of its goals and promotion plans.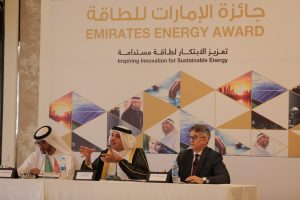 The press conference was attended by high-ranking officials from the Ministry of Energy and Mineral Resources, Jordan, HE Mattar Saif Al Shamsi, the UAE ambassador to Jordan, HE Ahmad Buti Al Muhairbi, Secretary General of the Dubai Supreme Council of Energy (DSCE), and Vice Chairman of the Executive Committee of the Emirates Energy Award (EEA). Speakers at the event were Mr. Taher Diab, Strategy & Planning Senior Director of DSCE, Secretary General of EEA and Mr. Ali Al Suwaidi, Senior Manager, Corporate Communications and Protocol, DSCE, Vice Chairman of EEA Marketing and Events of EEA.
To be run under the new theme – 'Inspiring Innovation for Sustainable Energy', The Emirates Energy Award (EEA) aims to encourage the rationalised use of energy and resources,  highlight the best practices and pioneering work in energy efficiency, renewable energy, sustainability and conservation of the environment. The award is an international platform for institutions and individuals as it focuses on supporting global efforts to find innovative and sustainable solutions to environmental pollution, global warming, carbon emissions and scarce natural resources.
The award also recognises the efforts of the public and private sectors in energy efficiency, energy projects and education, research and innovative ideas in the energy sector. A special recognition award is also granted to outstanding contributors in the energy sector.
While speaking at the conference, HE Ahmad Buti Al Muhairbi, Secretary General of the Dubai Supreme Council of Energy (DSCE), and Vice Chairman of the Executive Committee of the Emirates Energy Award (EEA), stressed the importance of taking part in the award, which aims to promote a culture of excellence, sustainability and innovation in energy management and ensure the sustainability of alternative and clean energy sources.
HE Al Muhairbi expressed his confidence that the award will witness wide participations from Jordan, adding, "We are delighted to start our regional tour to launch the award from the Jordan's capital, which has always been our first stop. Since its inception, this award has witnessed wide participation of Jordanian individuals, organisations and bodies and is dedicated to highlight the best technologies, solutions and innovative equipment in the fields of energy conservation, optimal use of resources and ways to generate renewable energy for sustainable development and environmental conservation."
"Jordan has always been a frontrunner for energy efficiency and environmental conservation initiatives locally and regionally and has adopted a number of leading projects aimed at reducing energy consumption and maximising the use of renewable resources and environmentally friendly technologies. This reflects the Kingdom's efforts to adopt alternative sources of energy and highlights its commitment to sustainability and energy efficiency."
"As the engine room of the world's energy efficient initiatives, EEA is a great opportunity for young men and women to highlight their innovative projects as well as have a chance to connect with the experts in the industry that can give shape to their projects. While the award will shine light on the sustainable and energy efficient practices, it will also connect them with subject matter experts and offer a chance to be supervised by a highly-respected jury panel. The award has an unmatched opportunity to celebrate local entrepreneurship and leadership, and taking this as an opportunity, we would like to encourage everyone to participate in this award," added HE Ahmed Butti Al Muhairbi.
The conference was attended by various universities, research centers and companies concerned with renewable energy technologies and research related to the environment, electricity and water sector in order to review the details of the award and its categories and how to participate in it. The objectives of the award were reviewed and its importance, which targets individuals and institutions in the public and private sector.
EEA this year will offer 10 categories which are: Energy Efficiency-Public & Private Sectors (Gold, Silver, and Bronze), Energy Efficiency – Private Sector (Gold, Silver, and Bronze), Large Energy Project (Gold, Silver, and Bronze), Small Energy Project (Gold, Silver, and Bronze), Connecting Solar Power to Buildings Project for Large Projects (more than 500 KW) (Gold, Silver, and Bronze), Connecting Solar Power to Buildings Project for Small Projects (less than 500 KW) (Gold, Silver, and Bronze), Education and Capacity Building  (Gold, Silver, and Bronze), Applied Research and Product Development (Gold, Silver, and Bronze), Young Professional Energy Award (Gold, Silver, and Bronze), and Special Recognition Award. For more information, please visit the website of EEA: www.emiratesenergyaward.com/