UAE, 28 October 2018 – The Ministry of Health and Prevention recently organized a community awareness event to celebrate World Food Day in collaboration with the College of Health Sciences – Nutrition Department of the University of Sharjah held under the theme of 'Healthy diet and cooking.' The event featured healthy cooking methods for daily meals as part of adopting a healthy lifestyle and reducing the prevalence of chronic diseases in society such as diabetes, obesity, and heart illness.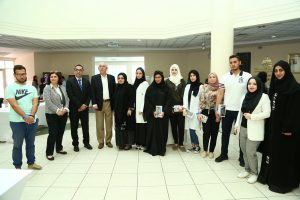 As part of the Ministry's strategy to promote awareness of healthy lifestyles in society and to provide comprehensive and integrated healthcare in innovative and sustainable ways to ensure community prevention, H.E. Dr Youssef Mohammed Al Serkal, Assistant Undersecretary for the Hospitals Sector, stated the importance of establishing healthy food culture among the members of the society, especially the students including encouraging healthy eating, physical activity and a healthy lifestyle.
More than 150 countries from across continents celebrate "World Food Day" which declared on October 16th of every year by the Food and Agriculture Organization of the United Nations.
The Ministry of Health and Prevention conducted various activities which aimed to raise awareness about the importance of eating healthy food choices and leading healthy lifestyle for employees and community groups within its hospitals and medical centres including Ibrahim bin Hamad Obaidullah, Fujairah, Al-Baraha, Khorfakkan, Shaam, and Kalba Hospitals, as well as Al-Ma'mura, Hamidiya, Al-Zait, Riffa, Salamah, Al Khazan health centres and Physiotherapy centre in Ras Al Khaimah.